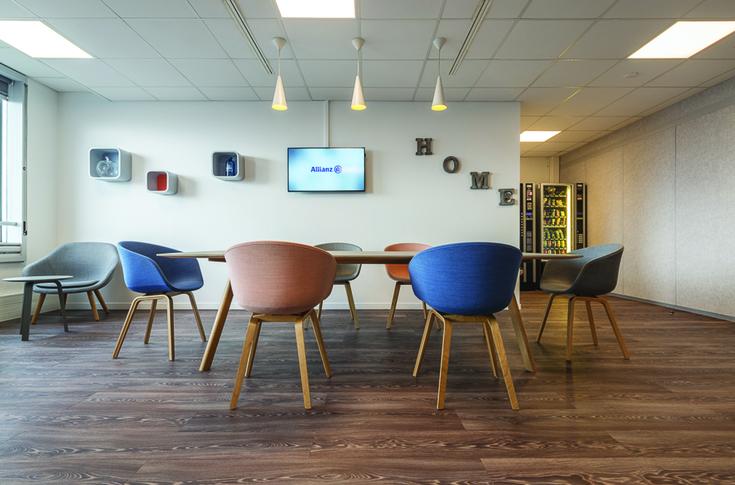 Allianz's New Offices to Improve Collaboration - La Défense, France
2016 | La Défense, France
Allianz asked Tarkett to provide flooring for the company's new offices in La Défense quarter near Paris (France). The offices were to embody the company's new "Vivre Allianz" project: changing to new work modes. The objective of this new light-filled and comfortable workplace was to foster the wellbeing, collaboration and efficiency of the 2500 people working at Allianz.
With this in mind, Tarkett chose Desso carpets for the offices and Luxury Vinyl Tiles for relaxation spaces, and a mix of both for meeting rooms. These two flooring solutions are both made to contribute to healthy indoor spaces and respect the environment.
Carpet for wellbeing and efficiency
Desso's AirMaster carpet tiles were specifically developed to improve indoor air quality.
The Oxy colour chosen for Allianz's offices offers a subtle organic and irregular design similar to that of dried clay, which gives it a very natural feel and contributes to visual comfort. Its Light Reflectance Value (LRV) is 19,37, which means the Oxy colour contributes to spaces that are clear and require less artificial light, thus saving energy and money.
The integrated SoundMaster Lite acoustic underlayer optimises acoustics spectacularly and thus strongly contributes to better efficiency at work.
Luxury Vinyl Tiles for a contemporary and warm touch
Tarkett's eco-friendly iD Inspiration 55 collection (Luxury Vinyl Tiles) was developed with the Cradle to Cradle® principles in mind. This collection was chosen by Allianz for relaxation spaces and combined with carpet in the meeting rooms.
iD Inspiration 55 contributes to a better and healthy work environment because it is phthalate-free and VOC emissions are very low (≤ 10 µg / m³). It is also 100% recyclable and part of Tarkett's ReStart programme. The different plank and tile formats offer unlimited mix and match possibilities to make unique patterns. The two designs mimic wood and give the interior spaces a contemporary and warm touch.
Luxury Vinyl Tiles offer outstanding designs but also functionality. The TopClean XPtm surface treatment reinforces the durability of the product for better resistance to wear and tear in high traffic areas, and makes cleaning and maintenance easy, reducing the use of water, energy and detergents.
About
Allianz's new offices in La Défense embody the insurance company's project to transform work modes.