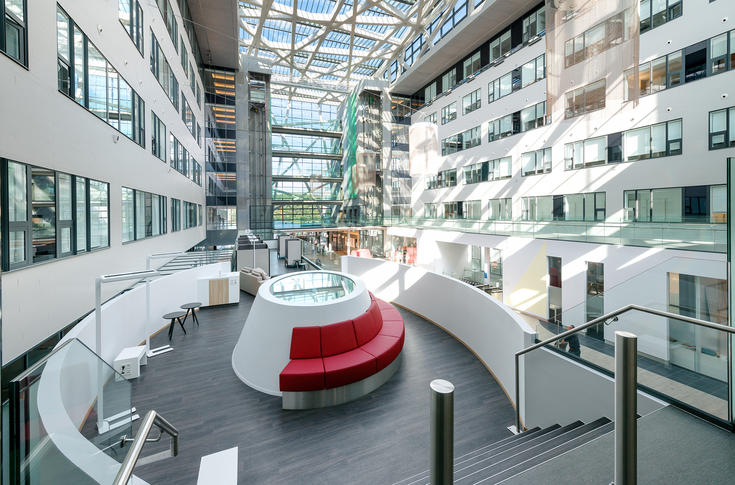 AZ Alma - Eeklo, Belgium
2017 | Eeklo, Belgium
Why did the newly built hospital AZ Alma (Eeklo) go for Tarkett floors?
Last spring, AZ Alma's staff and patients moved from the old sites in Eeklo and Sijsele to a brand-new hospital campus near the Ringlaan in Eeklo. Tarkett provided all of the PVC hospital floors. "A well-thought-out decision", emphasises Henk Vincent, AZ Alma's facility services director.
Why Tarkett for hospital floors?
Henk Vincent is AZ Alma's director for facility services and master plan, and was directly involved in the construction of the new campus. He explains how and why the hospital opted for Tarkett PVC flooring. "We were specifically looking for seamless floors that facilitate moving around with hospital beds, that are easy to clean and that will last for a long time. It was also important that the flooring could mute the sound of the floors below. And obviously, the price-quality ratio was also a key factor in our public call for tender."

"We already knew Tarkett's products," says Henk Vincent, "but we still decided to extensively test all possible types of flooring. The results indicated that Tarkett was a very solid choice."

In practical terms, the company Oxfloor EGALO placed four types of flooring in AZ Alma:
Acczent Excellence 80 faux wood floors in the maternity ward
iQ Toro conductive floors in the operating rooms
iQ Optima Multisafe with anti-skid studs in the wet areas
iQ Optima in all other areas
 
By combining the same light and darker colours everywhere, the hospital has a modern yet cosy atmosphere. Vincent: "First and foremost, the result is soothing. The last thing we wanted was an in-your-face interior." The floor was extended to 1.10 metres onto the walls in order to protect them against wear and tear.
About
Tarkett provided all of the floors for brand-new AZ Alma hospital in Eeklo (Belgium). iQ flooring solutions were particularly suited to the hospital's requirements.