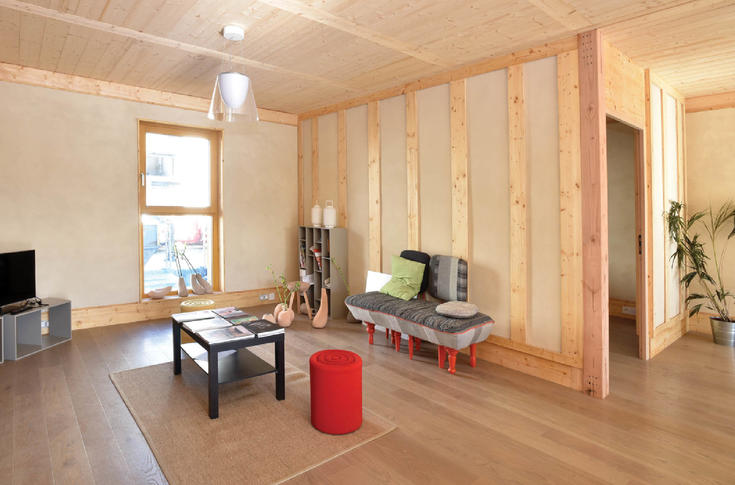 Developing Sustainable Habitats for the Future - Lyon, France
2016 | Lyon, France
Creating a sustainable habitat prototype
To develop "Terra Nostra", students from the ENSAG and ENSAL Architecture Schools of Grenoble and Lyon (France) chose to work with a multidisciplinary team, composed of teachers, researchers, architects, engineers, technicians and constructors. Their aim was to create an energetically efficient prototype of sustainable collective housing that respects the environment. One of the main notions guiding their creative process was "doing more with less".

The prototype was presented to a large audience at Lyon's National Architecture Days in October 2016. Terra Nostra is currently on display until 2019 at Lyon Confluence, Lyon's urban development area, after which it will be presented in Grenoble. The ambition of this architectural project is to build awareness among construction professionals as well as architects, economists, elected representatives, politicians, funders, land developers, engineering departments, craftsmen or industry professionals on the following issues:
Using bio-based raw materials;
Providing housing for all;
Eco-friendly cities of tomorrow.
"Terra Nostra", in line with Tarkett's commitment to Sustainable development
Tarkett proudly supported "Terra Nostra" by providing eco-friendly flooring materials for the interior spaces of the prototype. Tarkett's non-compromising approach to Sustainability is oriented towards a more circular economy based on "closed-loop circular design" This means aiming to develop solutions that contribute positively to people's quality of life and to the planet at each step of the product life cycle: from eco-design to production, during the usage phase and at the end of use.

In order to contribute to addressing major issues such as global warming and global resource scarcity, Tarkett is committed to developing floorings made with quality raw materials, which means they :
Contribute to making interior spaces healthy,
Respect the environment and are easily recyclable,
Are abundant and renewable.
By applying the Cradle to Cradle ® principles, Tarkett commits to placing health and well-being at the center of the company's approach.
About
"Terra Nostra" was developed by Architecture School students to address the issue of preserving the environment thanks to more sustainable living