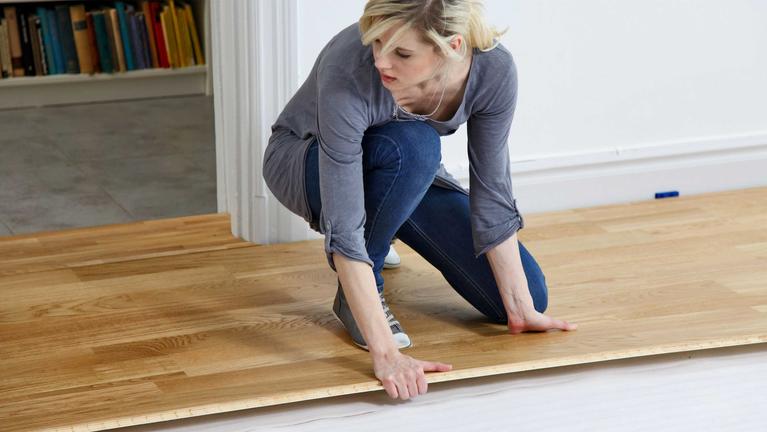 Choosing a new floor is very exciting, but also a little bewildering. There are so many types of floors and so many designs, so many things to think about. You probably already have some ideas about the style you would like, but the following easy tips will help you make sure that you get the floor you want and need.
Abandon your preconceptions
You may have decided that only wood will do. That laminate is easier to look after. Or that vinyl is more practical. But when you see the extraordinary range of finishes and styles you'll realise that the possibilities are endless. All our floors come with the latest surfacing technology to ensure that they are beautiful to look at, easy to clean and hardwearing. So, put your preconceptions to one side and be prepared to open your mind to new ideas.
Budget
Measure the room or area to be covered and decide how much you can afford to spend. Make sure that you leave a little extra in your budget for additional items and accessories such as a vapour barrier, acoustic underlay, or mouldings and transport if you want home delivery. 
Look at the existing surface and decide whether you can lay a floor over it or whether it will have to be resurfaced – if so include that in your budget too.
 
Which subfloor?
Floors can be installed over a variety of different surfaces:
Concrete, tiles, stone and marble – vinyl, laminate and wood
Wooden floor – vinyl, laminate and wood
Very short pile carpet – vinyl, laminate and wood
Embossed vinyl – laminate and wood, but must be removed or covered for vinyl
Long pile carpet – must be removed for all new floors
Which floor for which room?
All our floors benefit from innovative technology to ensure comfort, looks and the best performance. But different rooms have their own special requirements that you should consider when you make your choice.
Entrance and hallway - People coming and going will bring dirt and damp into your home putting special demands on this part of the floor. Choose a hard surface that can stand up to moderate damp and is easy to clean.
Office – If keeping your office quiet for concentration and comfort is a top priority you should consider floors with good acoustic properties. You'll probably want a tough surface that's won't be easily damaged by office furnishings or heavy use, if you expect a lot of visitors. Floors with anti-static properties can be a wise investment if you use a lot of electrical equipment.
Kitchens – Spills and dropped food and equipment are a fact of life however careful you are as a cook. Choose a floor that not only has good stain and traffic resistance, but that will also stand up to light moisture and repeated cleaning.
Bathrooms – Water makes the bathroom a challenging environment and you must be careful to select a floor that is water-resistant. In addition, for safety you'll need to be sure that the floor won't be slippery when it's damp and that it will be easy to clean.
Bedroom – Your bedroom is often a very personal space so you'll be looking at a wide range of decorative finishes. Don't forget that looks are just part of the equation and that you'll also want to be sure that it's comfortable and warm for bare feet.
Kid's bedroom/Playroom – Kid's bedrooms often have to accommodate a wide variety of play as well as sleep. To cope with active youngsters you'll need a tough, practical floor that's comfortable but also easy to look after and clean, and that will also help to keep noise levels down.
Living room – Often the centre of the home, you need a multi-purpose floor that reflects your style but can stand up to the challenge of a variety of activities. A tough surface that's easy to clean and look after will reduce the time you need to spend keeping your living room looking good.
Underfloor heating
If you already have or are thinking of installing an underfloor heating system, then you must select a floor that meets the manufacturer's requirements. Self-regulated underfloor heating systems are suitable for most of our vinyl, laminate floors, wood floors. However, maple and beech floors should never be used with underfloor heating because of their natural structure, which can cause cracks and develops gaps when they dry out too much. You should seek professional advice before making a purchase.
 
Skill levels
Installing a floor has never been easier with a wide range of new products that do away with complicated techniques. 
When it comes to vinyl, the self-adhesive floor in a box and iD Inspiration Ultimate are a good first project and are easy for one person to install. In fact, with TarkoSpray – our innovative aerosol adhesive – it's now fast and easy to put in any vinyl floor. Simply spray and lay, and you can reposition for hours afterwards.
All our products come with full installation instructions.
Wear and tear
No one wants to spend every minute worrying about stains and cleaning. By choosing a floor that suits the area, you'll cut down on the cleaning and general care you have to provide. You should also select a floor with the best possible surface protection. Tarkett has some of the best surface treatments on the market, protecting your vinyl and LVT from scratches, dirt, fading and moisture.
The environment
Tarkett is the natural choice if you want to be sure that your floor has been produced to the highest standards of sustainability and using natural and renewable materials wherever possible. For more information about our policies on sustainability visit our sustainability section.
 
Check the product
We provide full technical specifications for all our products and you can find additional information here.