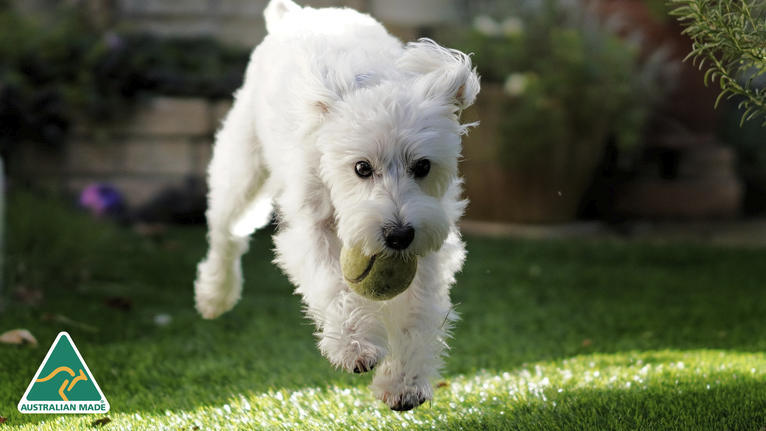 Introducing LuxTurf, as seen on the 2021 season of The Block, a range of quality Australian made artificial turf products by Tarkett, one of the world's largest flooring companies. Featuring one of the softest artificial turfs on the market, our range is designed to withstand the harsh Australian climate.

LuxTurf allows you to build the ideal lawn to meet the needs of your family - whether they are 2 legged or 4! If you want a lawn that looks great year round without watering, mowing and weeding, then LuxTurf is the solution.
LuxTurf is available at Carpet Court stores across Australia.
Pick your perfect turf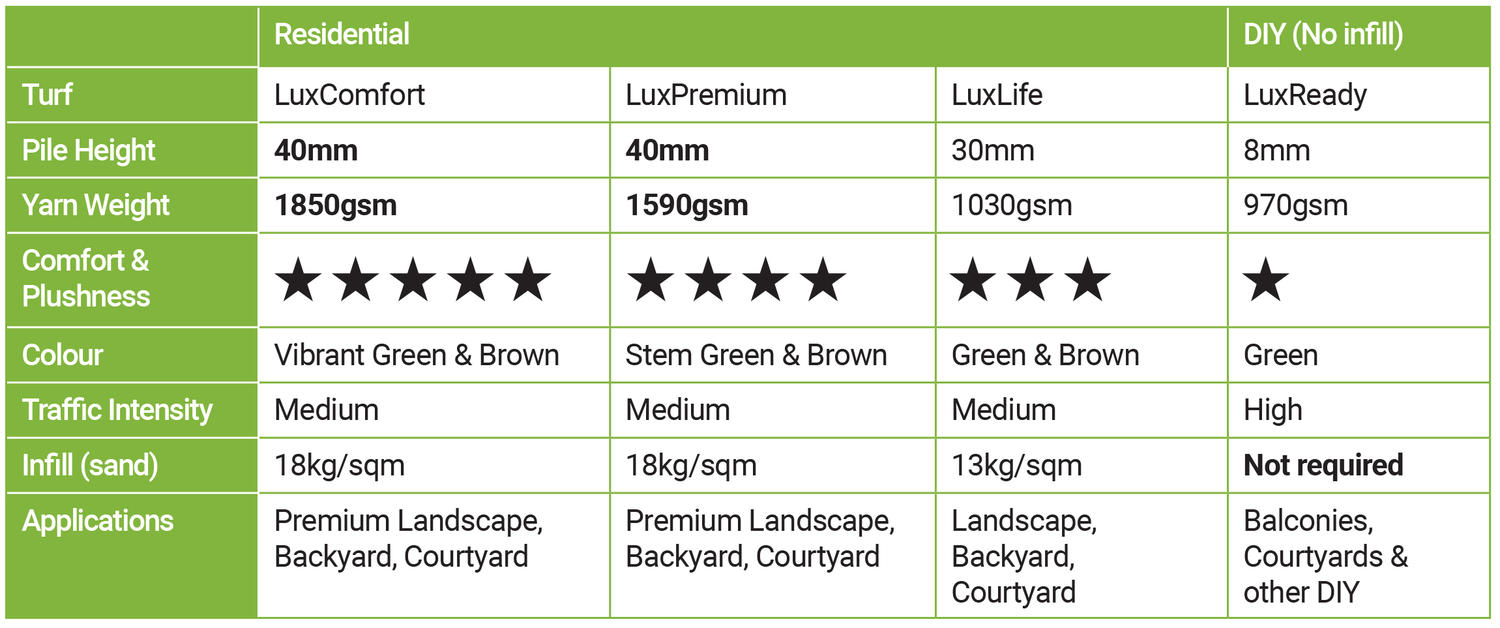 LuxComfort
Made with a softer more dense yarn, LuxComfort is one of the most luxurious articifial turfs on the market, delivering superior underfoot comfort in a lush green design.
LuxPremium
Constructed from a quality dense yarn, LuxPremium delivers a year round summer aesthetic with its light green coloured yarn & 1590gsm plush, thick weight.
LuxLife
An affordable everyday backyard solution delivering a soft, summer landscape look with a stiffer yarn and shorter cut.
LuxReady (DIY - No infill required)
A multi-purpose aesthetic turf, suitable for balconies and small courtyards. LuxReady is the perfect DIY product for quick, easy, no infill installs.
Optional Extras
Now it's time to choose from our optional extras to build the perfect lawn to suit your home and family. Whether it's fall protection to provide added safety for the kids, visitors and grandparents, or our Pet Fresh Granules, which work to neutralise odours and make backyards with pets more pleasant.
Pet Fresh Granules
PetFresh are easy-to-use granules that are simply sprinkled over your artificial turf to absorb ammonia and substantially neutralise odours. 
The granules allow for water and urine to be held in the cavities of the lattice and naturally break down urine, preventing bacteria build up. 
100% Organic Granules
Controls urine odour
Safe for family & pets
Helps cool artificial turf
Playsafe Padding
PlaySafe has been developed with kids in mind. Teamed with your LuxTurf lawn, our Playsafe 20mm pads provide protection from critical fall heights of up to 1.1m. Due to it's high drainage properties, areas with PlaySafe are dry and ready to be used in no time, even after severe showers.
Fall protection for your family
Outstanding drainage properties
Lasting stability
Unmatched wear resistance