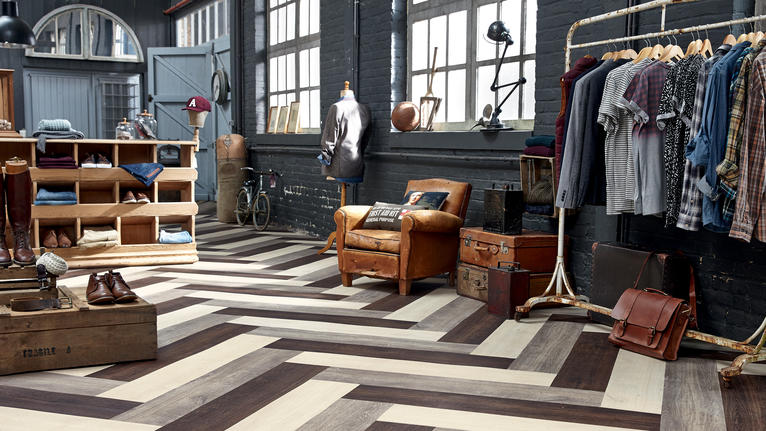 Why use Luxury Vinyl Tiles?
Whether you're choosing new flooring for a single room or your whole home, Tarkett's luxury vinyl planks and tiles will give you beautiful, life-proof results.
Tarkett's luxury vinyl tiles provide all the beauty of natural timber or concrete, but without the drawbacks … that means less noise, lower installation costs, easier maintenance and outstanding durability.
LVT is renowned for delivering in-home comfort being much warmer underfoot than ceramic tiles, and also suitable for underfloor heating.
Tarkett is a European style leader in flooring, and a world leader in indoor air quality and sustainable manufacturing. All of our Inspirations LVT ranges are 100% recyclable and have the following in common:
Asthma & Allergy Friendly
Extremely Low VOC Emissions
Phthalate free
With Tarkett, your floor will become the highlight of your home.
iD Essential 30
The affordable rental friendly option that does not skimp on quality. Only 2mm thick, its 3-layer construction ensures Essentials 30 is dent-resistant and durable thanks to Tarkett's TopClean micro-layer coating. This clear, hard-wearing layer also makes Essentials 30 very easy to clean and maintain.
Essentials 30 is available in a wide range of colours to match the décor of your home.
iD Inspirations 55
Featuring a 4-layer construction including a high definition printed design layer sandwiched between TopClean XP protective coating up top and a fibreglass reinforced base to guard against tearing, Inspirations 55 is tough under pressure.
Available in 12 designs, Inspirations 55 is backed by a 20 year limited residential warranty for your peace of mind.
iD Inspirations Loose-Lay
Let your creativity flow and create inspiring floor designs using Inspirations Loose-Lay range from Tarkett. Featuring unique anti-skid technology that provides stronger plank adherence and stability combined with versatile lay patterns, Loose Lay range is a renovator's dream.
Inspirations Loose-Lay is designed to be easy to install and maintain.
iD Inspirations Ultimate
A new class of luxury vinyl planks and tiles, Inspirations Ultimate features patented rigid composite core technology as part of its construction offering you the ultimate in durability. Using a one-click triple lock connection system, Inspirations Ultimate is quick and easy to install even over existing floorcoverings like ceramic tiles, timber and concrete with little or no surface preparation and no underlay required.
Our Ultimate range also feature Tarkett's Tru-Grain Technology that perfectly mimics the natural grain of timber giving you the ultimate design for your home while SoundBlock Technology helps dampen in-room noise and noise transmission between different levels in your home or apartment.