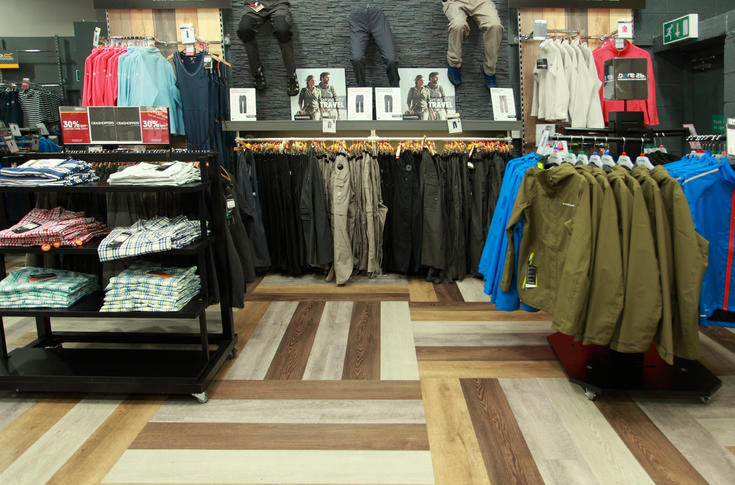 Regatta Store - Dublin, Ireland
2015 | Dublin, Ireland
Situated in the buzzing and vibrant Square Tallaght shopping center, the Regatta store attracts shoppers from across the capital. As part of its rebrand campaign, the outdoor clothing store underwent a complete refurbishment to establish a bold look inspired by nature to reflect the brand's identity. Tarkett was selected to take the lead on the store's flooring installation after being chosen by close partners, Johnston Shopfitters, who were managing the project.
Using 200mm x 1220mm sized planks from the iD Inspiration 70 collection, Tarkett created a bespoke design to bring the great outdoors inside. Four light and dark shades of wood designs were mixed together to achieve a natural and eye-catching pattern.
Brian Fox from Regatta said: "We wanted to achieve a totally fresh and unique design for the refurbishment. Tarkett's modular options offered us new design choices to play with. We were really keen to use a patterned design with a dynamic range of natural wood shades that would tie in perfectly with the Regatta brand."
Paul Callan from Johnston Shopfitters added: "The layout of the Regatta store made it more challenging than usual to implement the patterned flooring design, but thanks to Tarkett's expert advice and consultation, we managed to make this pattern seamlessly complement the shape of the store."
As well as creating a bold and stylish result, the design also provided ease and speed of installation, which was one of the key criteria for the project. The flooring was installed within a few days to meet the store's deadline for completion.
The new bespoke flooring has been well received and has since attracted attention from other outlets. As a result, this look is being replicated across ten more Regatta stores spread out over the UK and Ireland.
About
Tarkett brings the great outdoors inside with a bold patterned flooring design for the Regatta clothing store.